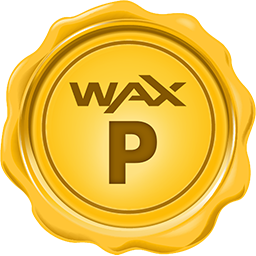 Last Price
$0.04
Last updated:
Circulating supply
3,363,255,554
Crypto Overview
Categories
Media

Collectibles & NFTs

Gaming

Entertainment

Payments

Metaverse

Galaxy Digital Portfolio

Kenetic Capital Portfolio

Play To Earn

OKEx Blockdream Ventures Portfolio
WAX is a purpose-built blockchain and protocol token designed to make e-commerce transactions faster, easier, and safer for all participants. The WAX Blockchain uses Delegated Proof of Stake (DPoS) as its consensus mechanism and is fully backward compatible with EOS. The custom features and incentive mechanisms developed by WAX are designed to optimize the blockchain's usability in e-commerce, and encourage voting on guilds and proposals. WAX has created a suite of blockchain-based tools upon which dApps, marketplaces, and native non-fungible tokens (NFTs) are built. These tools include services to support e-commerce operations such as the WAX Cloud Wallet, SSO and OAUTH, a native RNG service, and a developer portal. The resulting technology reportedly represents a blockchain architecture with 500 millisecond block times, is fee-less for customers, and leverages voting rewards to incentivize participation in the selection of block producers and proposals
Crypto Impact
To assign a comfort level investing in WAX from a halal perspective we need to determine whether it has a net positive or negative impact.
Towards this end, the table below is used to tally all the positive and negative considerations our members can think of related to WAX.
If you don't see something that should be listed, positive or negative, feel free to submit your own contribution using the button "Contribute".
We will review your contribution for accuracy before publication.
Importantly, you can review listed contributions and vote on which one you think has the greatest impact, positive or negative.
You only have one vote per asset so use it wisely.
You can change your vote if you change your mind.
Justification for our Halal Rating